Hounds of the Sea Videos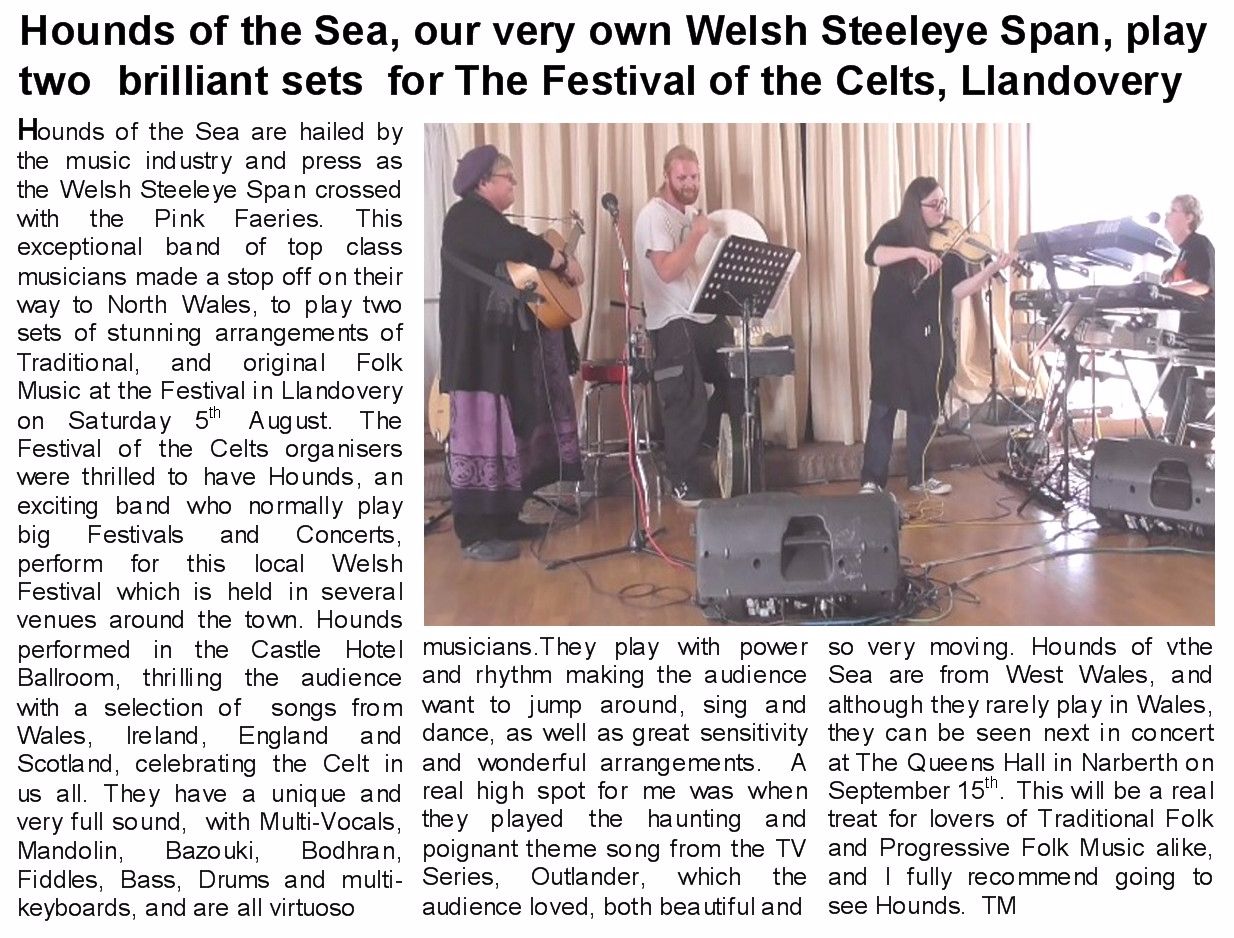 TESTIMONIALS
"It was so exciting and a real honour to have one of Wales's top Irish Bands play for us, the next time we'll see them is top of the bill at the Fishguard Folk FFestival."Anthony Mcnamara, 2017"
Absolutely bloody brilliant from start to finish. They really can play the Irish songs. I cant recommend them enough, theyre just brilliant"Tim Bath Irish, 2017"
We were blown away by the band last night, they had us all up on the dance floor the whole evening. They are so good its easy to tell theyre all pros. It was like going to a concert the cheering and even some mosh pit action. Bloody marvelous" 2017 Gary Watson (Ceilidh Irish Night Dance)
Booked this band for a big party for relatives over from Ireland. What a happy band. The music was fabulous. The party went with a swing from the minute they started up. Our Irish relatives just loved all the Irish jigs they put out and were particularly impressed by the fiddle player and the singer who played the Irish drum. Excellent. Look forward to booking again for next years shingdig. Many thanks for travelling all the way to Merseyside. You were certainly the perfect choice for us. Ms.Susan J Drury. Whitehouse lane. Formby. Merseyside (Private party) 10/10"Susan Drury, 2017"
Brilliant musicians, whoopee. I love Perryn's vocals too. Colin Bell (Private Function) 10/10"Colin Bell, 2017"
They do absolutely stunning versions of all the songs we wanted. This was a little local Irish night, but they were BRILLIANT. A real festival band. They must have sold over 100 CDs. We all wanted one. Cant wait to see them again."Sam Newell, 2017"I'm so thrilled that the great Hounds of the Sea played for us. They were ****ing BRILLIANT!! We'll be going to see them at The Fishguard Festival!"Jim Simms, 2017"
This band is so ****ing good I've bought both their CDs and I'm going to see them at Cambridge Festival and Glastonbury. Yay!!!!!!"Justin, 2017"Just seen the Hounds headlining the Burry Port Festival. BLOODY MARVELOUS ---AWESOME"Rob Gilgrist, 2017"
They are like a mixture of Steeleye Span and Peatbog Faeries. Totally brilliant! Saw them in concert recently."Jo Harris, 2017"Glastonbury rocked for the Hounds"Dave Crogan, -12017